So you want to

Scare people!
Our employees, actors and cashiers alike, absolutely love their jobs! Although, it's not necessarily easy and can prove to be quite challenging on occasions -especially for the actors! We all work very hard to put on the best show possible and keep the house in tip top shape! Please read below before you apply to get a better idea of what it entails to become a part of our "creepy little family"…
.
---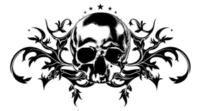 We generally begin going over applications in the middle of March and our initial hiring starts around April for actor and cashier positions. Please note that all positions available are seasonal, lasting through to the end of October or early November. However, it is occasionally possible for a select few to be considered for permanent employment at the end of the season. If you are interested you may fill out an application at any time for us to keep on file until we are hiring. Positions also sometimes become available throughout the summer and fall seasons as well. For the month of October we hire many extra temporary actors. We keep our environment free of hard drugs, tox screens may be required as well as background checks and you must be at least 18 years of age to apply. New hires will go through an evaluation trial period for 60-90 days in which pay rates will then be negotiable depending upon your performance, punctuality and work ethic. If you live far away, please be mindful of seasonal traffic that could affect the timing of your arrival. Also allow ample time to find parking.
.
.
~ACTORS~
Experience is quite helpful but please be aware that we do things a little differently than other haunts. Actors must be in very good physical condition and be able to endure a somewhat intense, parkour-like, free-style type of acting with many physically as well as vocally challenging scares. We look for agility and strong voices. This job is not recommended for those who cannot handle dark and enclosed areas. Halloween Temp Actors have much less physical requirements (see below) For regular seasonal actor positions, if your application meets our requirements and we call you, you will then come in for an audition. Auditions involve volunteering some of your time to run through the house with the main actors for a few hours to test your abilities and show off your skills. Hired actors will also be required to keep up with daily responsibilities of minor maintenance of the house and grounds including thorough cleaning of the restrooms etc. It is also the actors responsibility to open/close the house, turning on/off all sounds and props, making sure everything is working properly before opening the doors to the public.
.
.
~TEMP JOBS IN OCTOBER!~
We will also have many temporary actor positions available for our Special Halloween Presentations on weekends in October which are much less physically demanding than our regular acting positions. You must be available for ALL weekends, Fri, Sat & Sun, for the entire month of October as well as Halloween night. Auditions will be held in September. Many will get to wear professional FX make-up and assigned specific positions in the house for the character you are chosen for. If you do well in the house, it's a great opportunity to get your foot in the door if you are interested in a full time position for the following year.
.
~CASHIERS~
We are looking for enthusiastic, honest people with outgoing personalities capable of handling a crowd in a professional manner. Cashiers give the customers their first impression of us so good people skills are a must. Cashiers are expected to do their part in opening the house- getting sounds, lights etc. turned on/off, answering phone calls and keeping the front areas, inside and out, neat and clean. Communicating well with the actors for the timing of starting new groups etc. is necessary and some voice acting will also be required. The ability to change your voice (something creepy) and quick wit for improv can be helpful. Needless to say, accurate counting skills are also necessary. Light daily paperwork is also required.
.
.
So now that you have read the information above, if you are excited to work with us,
Apply Now!
---
USE OUR ONLINE APPLICATION FORM. ALL INFORMATION IS KEPT STRICTLY CONFIDENTIAL