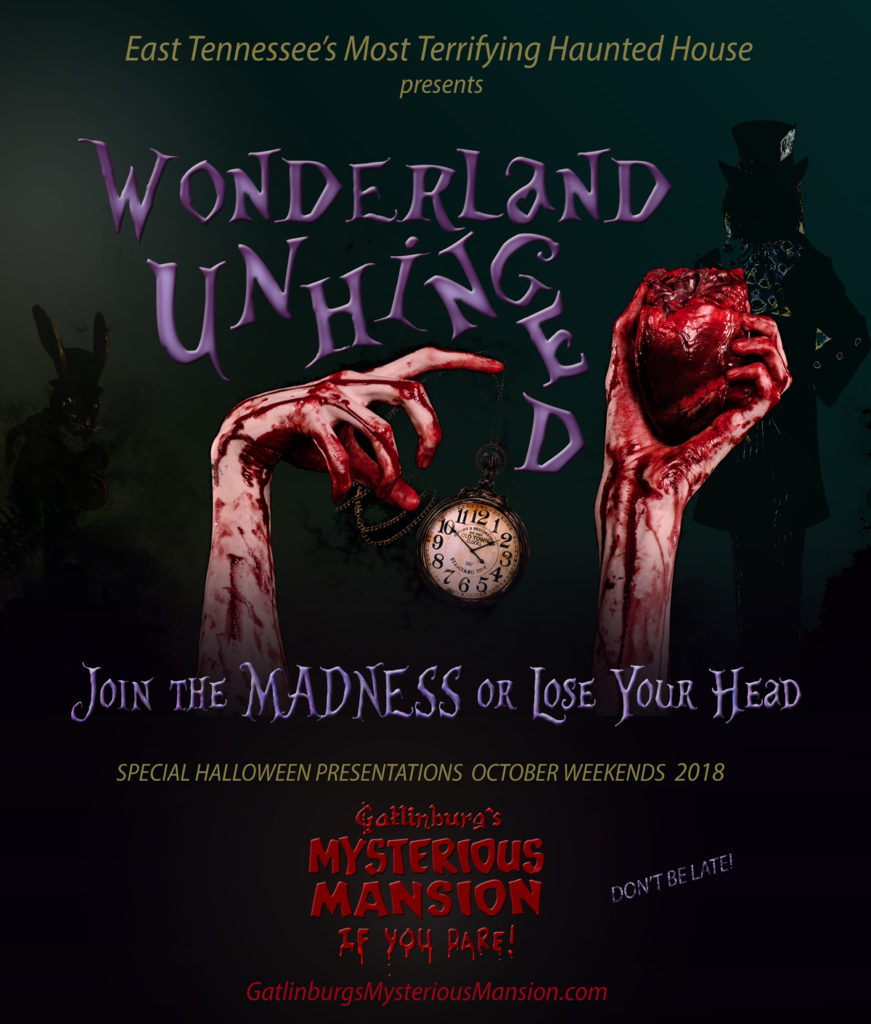 Special Halloween Presentations -2018!
WONDERLAND UNHINGED 
Dare to take a horrifying trip into Alice's deranged, psychotic mind!  
~The White Queen is dead and the Queen of Hearts has unleashed a dark and heinous veil that has befallen all of Wonderland.  Attempting to escape, the White Rabbit has foolishly burrowed away into our world, into our HOUSE! But the Rabbit, nor the others, nor YOU shall escape the infectious evil that follows, leaving everything in its path in demented  chaos -completely UNHINGED! The sick and evil madness shall pierce your heart, twist through your mind and blacken your soul! or the bloody Red Queen might rip out your heart and chop off your head!
Join the madness or lose your head!
only at
GATLINBURG'S MYSTERIOUS MANSION
424 River Rd.
Gatlinburg, TN.
865-436-7007
Join us Fridays, Saturdays and Sundays from dusk until close through the month of October in a horrifying adventure like you've never experienced before!
Open til at least 11pm, sometimes til after midnight when the last victim arrives~
Admission to Wonderland Unhinged  for adults and teens will be $17.00 and children $11.00 (tax included)
Open Year round! Our regular year round shows will still be presented Monday thru Thursday throughout the Halloween season. Admission to regular shows for adults and teens is $15.00 children $9.00 (tax included)
(Not recommended for young children)
Sorry, tickets no longer available for this Halloween Special
Check back to see what's new for 2019!
GatlinburgsMysteriousMansion.com